Amazon threatened to ban it, but
Dorothee Kocks
persisted, and now they've allowed it into their bookstore: drawing on the riches she uncovered in research for the
The Glass Harmonica
, Dorothee has created an interactive book titled
Such Were My Temptations
'uncovering the surprising, secret world of America's first sexual revolution'. I had great fun checking out the teasers this morning.
Here's a four-minute
video of
Dorothee
telling an audience how
Such Were My Temptations
came about. She's always a delight to listen to — the lyrical voice that sounds through her novel has its physical counterpart here.
And here's the
delectable preview
of the interactive book itself.
For those in the US, go straight to
Amazon
for your copy for US $2.99. To read it on your computer, purchase the Kindle Edition and select Kindle Cloud Reader. For those with an iPad, it's available at the iBookstore.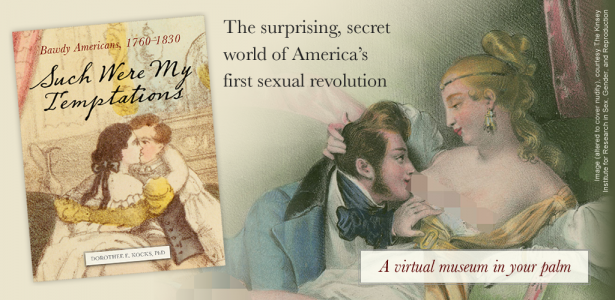 "Kocks leaves no stone unturned in upsetting today's definition of 'Puritanical.' From political sex scandals to polyamorous poetry, New England's first citizens evidently had plenty in common with today's Americans. Those who think of the 1760's as an era of widspread chastity should brace themselves for surprise before reading Temptations..."
I'm still trying to access a copy, here in NZ. I'll let you know when I do. Meanwhile, we have Dorothee's gorgeous, vital and moving novel,
The Glass Harmonica: a sensualist's tale
, in which she makes rich use of the material she's shared in
Such Were My Temptations
.